Press Release: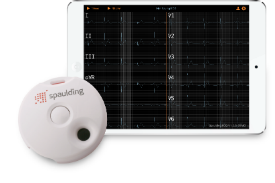 Spaulding Clinical Research, LLC announced that the Electrocardiograph 2100iQ™ is to be exhibited at the Drug Information Association's (DIA) 2016 conference.
The Spaulding 12-Lead ECG product line was originally launched in 2011 and is now in over 35 countries.
The Electrocardiograph 2100iQ™ has been optimized to visualize collected real-time digital ECG data via Bluetooth™ using iOS™ 7+, Android™ 4.2+ and Windows™ 7+ devices.
It's small, lightweight, and has single button operation for ease of use. Stores up to 5 minutes of ECG data which can be automatically uploaded wirelessly to the Spaulding webECG™ managment cloud.