September 06-07 | Boston, Massachusetts // Booth #77
Event: Outsourcing in Clinical Trials New England
Connect with Us on LinkedIn through the banner below: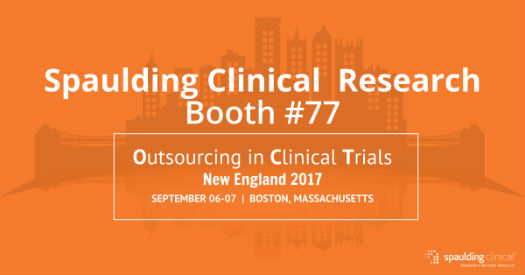 The crowd at OCT New England is composed of a mix of leading pharma establishments, biotechs, organizations, medical device companies and global service providers across the New England region including:
senior-level professionals, strategic partnerships, keynote speakers, and other sponsors focused on applying technology to healthcare and drug development.
Spaulding Clinical Research, a global CRO providing Phase I - IV drug development services to pharmaceutical and biotechnology companies, will be exhibiting at this event on September 6-7 in Boston, Massachusetts. We welcome you to join our movement or meet up with one of our dedicated team members at Booth #77 to answer any questions that you might have about overcoming the challenges of using today's latest technology in our industry and marketplace.
For more information on Spaulding's Clinical Pharmacology Unit, Full Service Biometrics Group, or Cardiac Core Laboratory, please contact headquarters at 262-334-6020 or email Daniel Selness at This email address is being protected from spambots. You need JavaScript enabled to view it.
DIA 2017, Chicago, Illinois | 18-22 June
Event: Develop Innovate Advance Annual Meeting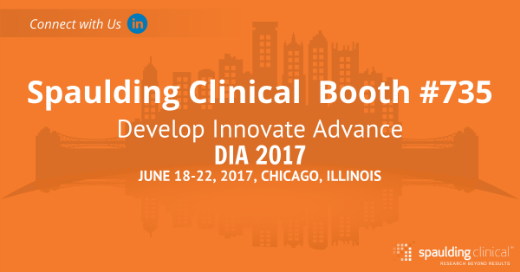 Stop by Spaulding Clinical Booth #735 and say hello to the entire business development team to learn more about Spaulding Clinical's clinical pharmacology and Core ECG services.
Watch our latest video and learn more about Spaulding's Cardiac Safety Services Our webECG™ data managment solution is revolutionizing the centralization of cardiac safety data collection and interpretation.
If you are attending DIA 2017 and would like to schedule a meeting with the Business Development Team, please This email address is being protected from spambots. You need JavaScript enabled to view it. or call us at 1-262-334-6020.
With the most advanced technology; the integration of monitoring, recording, analyzing and reporting all in one place; and a unique specialization in cardiac safety testing for new drugs in development, we provide the highest quality results with the most accurate data and the most efficient procedures in the industry.
At Spaulding Clinical Research, we hold ourselves to the highest standards. Passionate in our pursuit of ingenious solutions that save time and money for our clients and heroic in our ambitions to ensure the health and safety of patients, Spaulding Clinical Research strives to be the Phase I facility by which all others are measured.