DIA 2017, Chicago, Illinois | 18-22 June
Event: Develop Innovate Advance Annual Meeting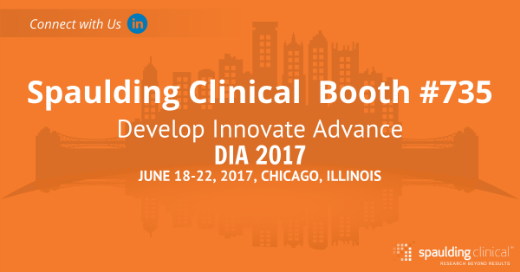 Stop by Spaulding Clinical Booth #735 and say hello to the entire business development team to learn more about Spaulding Clinical's clinical pharmacology and Core ECG services.
Watch our latest video and learn more about Spaulding's Cardiac Safety Services Our webECG™ data managment solution is revolutionizing the centralization of cardiac safety data collection and interpretation.
If you are attending DIA 2017 and would like to schedule a meeting with the Business Development Team, please This email address is being protected from spambots. You need JavaScript enabled to view it. or call us at 1-262-334-6020.
Press Release:
28 April 2017 John Blank Joins Spaulding Clinical as Managing Director, European Operations as Global Capabilities Grow.
Mr. Blank has 20-plus years of experience in the contract and research and development industry on both sides of the Atlantic, managing and growing global teams.
In his role, Mr. Blank will engage with pharmaceutical and biotech companies in assessment of cardiac safety during the drug development process. Spaulding is uniquely positioned as a leader in the field with an award winning clinical pharmacology unit and an innovative handheld ECG core lab solution. Mr. Blank is joined by a European based consulting cardiologist of the highest caliber and reputation to provide medical and scientific expertise in cardiac safety assessment from protocol development to regulatory submission.
With the most advanced technology; the integration of monitoring, recording, analyzing and reporting all in one place; and a unique specialization in cardiac safety testing for new drugs in development, we provide the highest quality results with the most accurate data and the most efficient procedures in the industry.
At Spaulding Clinical Research, we hold ourselves to the highest standards. Passionate in our pursuit of ingenious solutions that save time and money for our clients and heroic in our ambitions to ensure the health and safety of patients, Spaulding Clinical Research strives to be the Phase I facility by which all others are measured.